Revolution Party (General Sale)
26/11/2021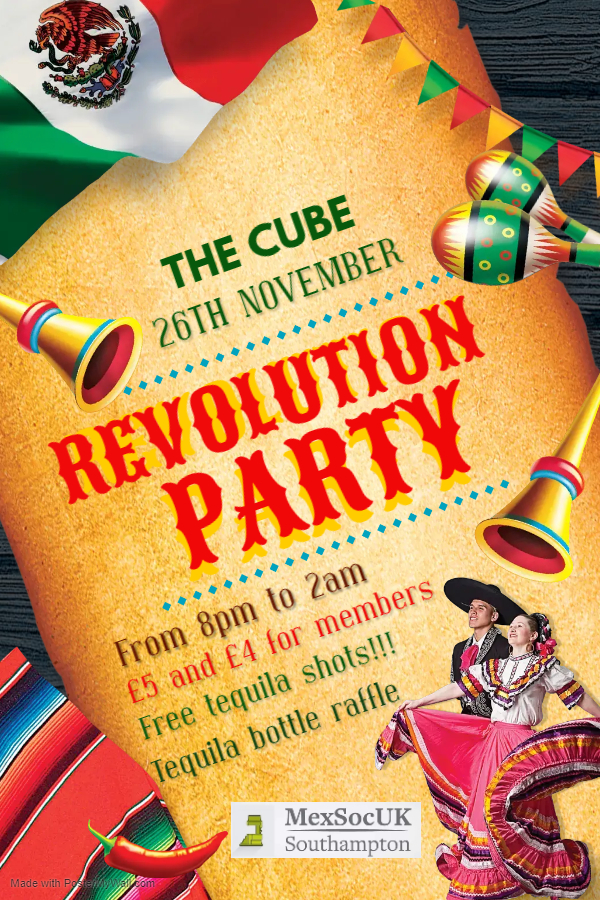 About this event
It's time for another Party!

Come and join us for a night full of tradition and latin music. This time, we're gonna be celebrating the 111th anniversary of the Mexican Revolution.
We're gonna have FREE TEQUILA shots at the entrance (first come first served). What is more, tequila bottle raffle at midnight!
Tickets are £5 (£4.50+0.50 admin. fee) and £4 (£3.50+0.50 admin. fee) for members.
The ticket sale is open until the 26th at 23.59pm.
The last hour to buy the ticket as MEMBER is the 26th at 20 pm, then the tickets are £ 5 for EVERYONE until midnight.
Please remember:
- Last entry is at 12:00 a.m. Don't be late!!.
- Negative Covid test from within 24 hours of coming to the party is required. Well will accept any type of test (LFD, saliva tests, etc.). We, however, will only count an EMAIL or a TEXT as evidence of a negative test. Photographs of LFD strips, or the strips themselves, are not acceptable."
Event details
Mexican Society
Bar 2, SUSU
20:00 (start)
00:00 (last entry)
00:00 (end)